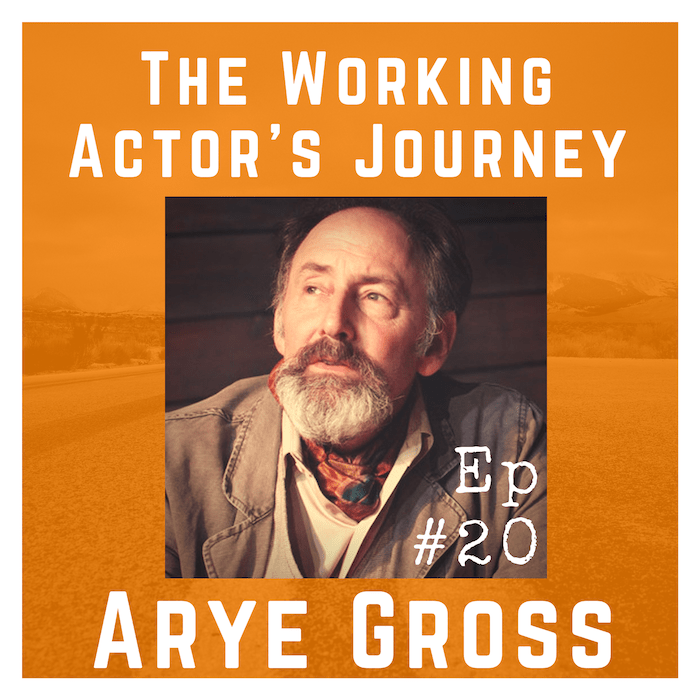 There's something that stirs in us when we watch a performance that has something authentic in it, and the best way I know to at least attempt to get to something authentic is showing up with what actually happened to me today. — Arye Gross
On the show today is Arye Gross, an actor with 40+ years in the business who always gives a memorable performance, wherever he pops up. Arye was absolutely one of the inspirations for this podcast and I knew he needed to be a guest—it was just a question of when, and I couldn't be more thrilled we're wrapping up Season 2 with him!
This is also a personal episode as Arye has been quite a part of my journey, especially during my 20s. I first met Arye in college at USC, when he co-taught an acting class with Tim Dekay (who many people would later know from the show White Collar)—Arye and Tim were both fantastic teachers. Definitely check out the film they did together, Big Eden—it's really heart-warming and great performances all around! I continued to learn from Arye when I was taking classes and doing shows at The Antaeus Company in LA. I consider Arye a friend, teacher, and mentor. 
Arye has had a pretty amazing career. He's got over 120 credits on IMDb and that doesn't even account for the MULTIPLE recurring guest roles he's had on shows like Diagnosis Murder, The Practice, Wildfire, The Riches, and as Dr. Sidney Perlmutter on Castle. In fact, I once helped Arye run lines for a Perlmutter scene: "talk about the B team…" 🙂
Two of his celebrated co-starring roles include as the guy tasked to fetch Bette Midler's character in For the Boys, and as the wronged husband in Minority Report with Tom Cruise—both are totally worth your time as a student of acting! He creates such great characters and does so much with very little screen time.
He's also absolutely one of those "hey, it's that guy" guys—he's popped up in so many different things on screen over the years, from Just One of the Guys and Soul Man to Friends and Grey Gardens and a hundred other things—even if you didn't know his name, you knew his face. I mean, he's in the actual book called "Hey, It's That Guy," so , you know, it's official. Though I have a feeling, after today's episode, you'll know who he is from now on!
Now here's an actor marketing idea inspired by this episode—
When I first told Arye that I had interviewed Reed Birney (from episode 13), Arye remarked that he keeps tabs on Reed's career, to see what roles he might want to check out! At least twice, they've played the same parts: in Circle Mirror Transformation, and as the lead in Uncle Vanya.
I also noticed it with Francis Guinan (from episode 14), that he and Reed had played the same part onstage in You Got Older. Now think of this: Reed is primarily in NY, Arye is in LA, and Francis is in Chicago. Of course they can and do work other places, but they are mainly in totally different markets, especially for theatre, so I'm sure there are actors YOU can look at in different markets to see what roles (especially in theatre) you could be right for and should be checking out.
Just a bit of what we cover in this episode with Arye:
Building props that he's used onstage
Being re-cast as the narrator of The Wonder Years
Upstaging Dan Aykroyd with strawberries
Neuroscience, empathy, and authenticity
Being embraced and rejected by the audience
Getting fired multiple times from the same show
What Arye still loves about acting
and so much more! Be sure to stick around for the very end, where we talk about three important quotes for actors, creativity, and yes's (you'll hear what we mean).
About the guest
Arye Gross was born in Los Angeles, attended the University of California at Irvine, and went on to study acting at the Conservatory at South Coast Repertory. He then became a member of the South Coast Repertory resident company for three years.
His South Coast Repertory credits include the world premieres of Richard Greenberg's Our Mother's Brief Affair and Donald Margulies' Brooklyn Boy, which marked his Broadway debut when it moved to New York.
One of his first professional productions was the world premiere of The Chicago Conspiracy Trial at The Odyssey Theatre in LA. He also spent a year doing social-political theatre with El Teatro Campesino under the direction of Luis Valdez.
While Arye's performed in a number of world premieres and workshop productions, he's no stranger to classical theatre, appearing in numerous works by Chekhov, Shakespeare, and Shaw. Regional theatre credits include Center Stage Baltimore, Pasadena Playhouse, Geffen Playhouse, several shows at South Coast Rep, Center Theatre Group, East/West Players, and Stages Theatre Center, where he served as Managing Artistic Director from 2000-2003. He has performed in dozens of plays recorded for LA Theatre Works.
For his performance in Underneath the Lintel, Arye was nominated for an LA Ovation Award for Lead Actor and for the LA Drama Critics Circle for Solo Performance.
Onscreen, he was a series regular on Ellen, and has made numerous guest appearances on a wide variety of television series, such as Diff'rent Strokes, Knight Rider, The Outer Limits, Six Feet Under, and Law & Order: SVU.
He is a member of the Antaeus Theatre Company in LA, and Arye considers himself extremely fortunate to have studied acting with Lee Shallat Chemel, Roy London, Jose Quintero, and James Wilson.
Please enjoy my chat with Arye Gross!

Total Running Time: 1:41:12
Get the show delivered right to you!

Want to hear from who Arye keeps tabs on, career-wise, in terms of roles he might want to consider? Check out my talk with Tony-winner Reed Birney!
What was your favorite quote or lesson from this episode? Please let us know in the comments.
Scroll below for links mentioned in today's episode and additional show notes…
---
Are you looking for more info from industry insiders and great teachers about being an actor?
And do you want this as something you can listen to on the go? Well you're in luck.
As a listener of The Working Actor's Journey podcast, Audible is offering you a free audiobook and a free 30-day trial. Whether it's one hour or 15 hours, it doesn't matter—whatever you want, that first book is totally free. To download your audiobook today go to workingactorsjourney.com/audible.
Here are a few recommendations:
The Actors Life by Jenna Fischer (from The Office), read by the author and others, including our guest Reed Birney
Secrets of Screen Acting by Patrick Tucker (a TV and film director), read by David Lawrence XVII
Respect for Acting by Uta Hagen, read by Angele Masters
Get one of these or anything else at workingactorsjourney.com/audible.
---
Show Notes
Arye Gross around the web
Twitter | Wikipedia | Film/TV | Antaeus Company | Additional Theatre | Voiceover Work | Narrated Plays and Books
Highlights
Building props that he's used in shows, making his acting job easier
Working in the shop and backstage for South Coast Repertory
How he resented non-acting work, though it paid off years later
Growing up with an engineer father
The influence of his older brother and sister in the 60s
Learning how he had been re-cast as the narrator of The Wonder Years
What he did to make his no-line appearance as "Another Cop" mean something to him
Being in a scene with Dan Aykroyd and eventually getting yelled at
Feeling like a fool on his first ever day of filming on the set of Different Strokes
What he learned from the great acting teacher Roy London
Studying neuroscience, empathy, and authenticity
Doing social and political theatre in LA and with Teatro Campesino (Farmworker's Theatre)
The joys and challenges of doing a solo show, Underneath the Lintel
Whether he had a plan of the types of roles and films he pursued
What he learned when standing around in wet clothes on an independent film set
Getting advice from agents to not do television (at that time)
Developing a show with writers but then not being cast
The advice he took to work on Ellen and the challenges he faced there
Abruptly finishing Ellen and immediately working on Friends and how different it was
Why it was uncomfortable to work on the Ellen sitcom
The great experience he had as a recurring actor on the show Castle
What does Arye still want to do as an actor?
The poet laureate Donald Hall and what he wrote that resonated with Arye about words
Where Arye finds his deepest engagement with the work – it's not necessarily in performance
What he wishes he spent more time on and where he could have paid more attention
The letter from Martha Graham to Agnes DeMille that all actors need to read
Beethoven's advice for living and being creative
Ai's poem about being a "leaf about to fall" and the meaning it holds for him now
Selected People and Items Mentioned
Martha Graham's Letter to Agnes DeMille
There is a vitality,
a life force,
a quickening
that is translated through you into action,
and because there is only one of you in all time,
this expression is unique.
And If you block it, it will never exist through any other medium and be lost.
The world will not have it. It is not your business to determine
how good it is
nor how valuable it is
nor how it compares with other expressions.
It is your business to keep it yours clearly and directly
to keep the channel open.
You do not even have to believe in yourself or your work.
You have to keep open and aware directly to the urges that motivate YOU.
Keep the channel open…
No artist is pleased…
There is no satisfaction whatever at anytime
There is only a queer, divine dissatisfaction
a blessed unrest that keeps us marching
and makes "us" MORE alive than the others.
From Beethoven
What will be the judgment a century hence concerning the lorded works of our favorite composers today? Inasmuch as nearly everything is subject to the changes of time, and – more's the pity- the fashions of time, only that which is good and true will endure like a rock and no wanton hand will ever venture to defile it. Then, let every man do that which is right, strive with all his might towards the goal which can never be obtained, develop to the last breath the gifts with which the gracious Creator has endowed him, and never cease to learn. For life is short, art eternal.
Possibly by Ai
Think of yourself as a leaf about to fall—now decide what to do with your time.
Arye on Screen
Discussing Circle Mirror Transformation
First look at Underneath the Lintel, where he made another prop!
Arye and the director Steven Robman on Underneath the Lintel
Arye and Tim Dekay in Big Eden
Arye in Minority Report
Production Photos of Arye
photos: from Uncle Vanya and Mrs. Warren's Profession: Karianne Flaathen; from Underneath the Lintel: Chris Whitaker; Parfumerie: Jim Cox