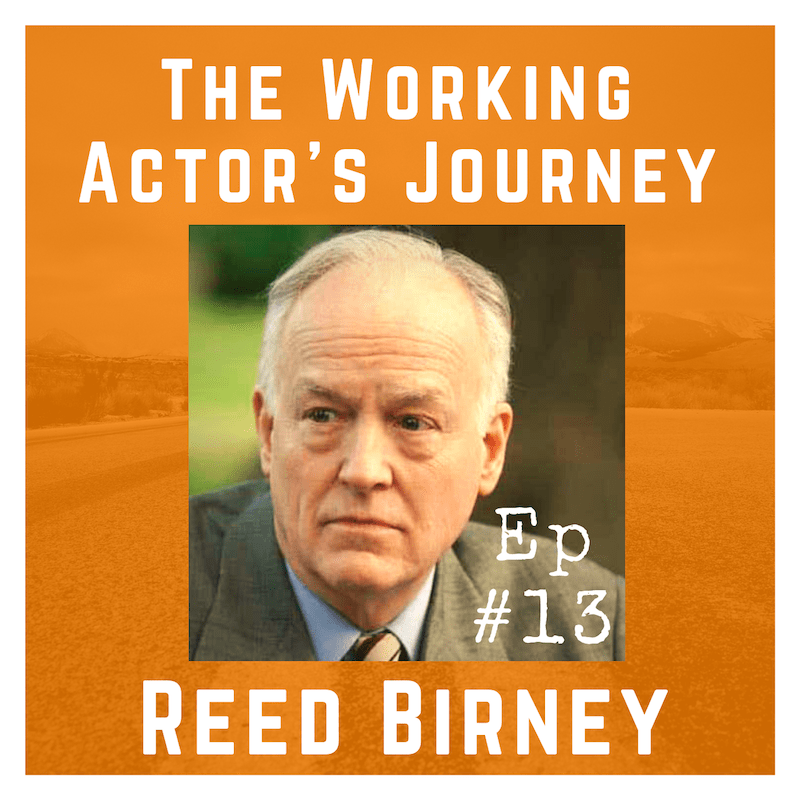 Always tell the truth, but in the most interesting way possible. The range of human experience and expression is vast. There are many ways to react to a situation and still have it be utterly and deeply truthful. — Reed Birney
Welcome back to season 2 and I'm excited to have actor and teacher Reed Birney joining us! Reed has had a long and winding road himself, and only recently feels like he found traction in his career, including a Tony Award for his work in The Humans.
What I loved about this conversation with Reed and why I was excited to chat with him is that he is very open and honest that it has not been an easy road for him, that he did wish things were different.
Just a bit of what we cover:
The freeing nature of doing nudity in both theatre and film
Why he chose not to go to Juilliard after being accepted, and why he might have hated acting if he went
The unbelievable circumstances of his first Broadway show
Why your imagination is so important, along with children playing in sandboxes
What can lead you to "bad acting" and how to avoid it
His experience working with The Coen Brothers and Sam Raimi early in their careers
The excitement and challenges of working on Casa Valentina
The helpful note from the director that helped him unlock the character in The Humans
The example he tries to set for both his children who are actors
About the guest
Reed Birney won the Tony Award and Drama Desk Award for his role in The Humans. He was also nominated for a Tony Award and won the Drama Desk Award in for his work in Casa Valentina. He is the recipient of a special honorary Obie Award for "sustained excellence of performance" and he received a Special Drama Desk Award "for his versatile and finely nuanced performances over the past thirty-five years, and for his exceptional work in three different plays." He also received Obie Awards for his performances in Annie Baker's Circle Mirror Transformation and Tracy Lett's Bug.
Reed has shared the stage with Ellen Burstyn and Bryan Cranston, and he has over 75 film/TV credits, including Clint Eastwood's Changeling, playing Vice President Donald Blythe on House of Cards, as Patti LuPone's husband on Girls, and on The Blacklist.
He attended Boston University and studied in classes sponsored by the National Academy of Television Arts and Sciences. He made his New York debut at Playwrights Horizons in 1976 in Gemini. He has appeared on Broadway and dozens of times off-Broadway, has taught acting at Columbia University and The Scott Freeman Studio in New York, and he is married to actress Constance Shulman (who appears on Netflix's Orange is the New Black) with two children, Ephraim and Gus, who are both actors.
Please enjoy my chat with Reed Birney!

Total Running Time: 1:30:35
Get the show delivered right to you!

Want to hear more from another Broadway actor? Check out my talk with Harry Groener, who has been nominated for 3 Tony Awards!
What was your favorite quote or lesson from this episode? Please let us know in the comments.
Scroll below for links mentioned in today's episode and additional show notes…
---
Are you looking for more info from industry insiders and great teachers about being an actor?
And do you want this as something you can listen to on the go? Well you're in luck.
As a listener of The Working Actor's Journey podcast, Audible is offering you a free audiobook and a free 30-day trial. Whether it's one hour or 15 hours, it doesn't matter—whatever you want, that first book is totally free. To download your audiobook today go to workingactorsjourney.com/audible.
Here are a few recommendations:
The Actors Life by Jenna Fischer (from The Office), featuring our guest Reed Birney
Secrets of Screen Acting by Patrick Tucker (a TV and film director), read by David Lawrence XVII
Respect for Acting by Uta Hagen, read by Angele Masters
Get one of these or anything else at workingactorsjourney.com/audible.
---
Show Notes
Reed Birney around the web
His Website| Film/TV | Wikipedia | Broadway | Off-Broadway | Additional Theatre
Highlights
The freeing nature of doing nudity in both theatre and film
The impact his father's work as a minister made on him
When he realized you could be an actor for a career
How he dealt with the challenges of being an actor
What fame meant to him, and the decisions he made as a result
Why he chose not to go to Juilliard after being accepted, and why he might have hated acting if he went
What he did to try to get the part of Look Homeward Angel on Broadway
Why he dropped out of BU and started training at Circle in the Square
The unbelievable circumstances of his first Broadway show
The class (and teachers) he gives credit for everything he knows as an actor
Why your imagination is so important, along with children playing in sandboxes
What can lead you to "bad acting" and how to avoid it
The beginning of the really bad time
Why he feels he gambled and lost with his first film and agent
Why he stayed with Gemini for so long, and the difficulty with that
His experience working with The Coen Brothers and Sam Raimi early in their careers
How a fistfight led to his being cast as a lead in a film
The anger and rage he felt early in his career when there things weren't happening
Why no acting work led him to travel the world through Europe, Africa, and Australia – one of his proudest accomplishments
The advice he gives his students regarding despair
The excitement and challenges of working on Casa Valentina
The helpful note from the director that helped him unlock the character in The Humans
The example he tries to set for both his children who are actors
Selected People and Items Mentioned
Reed winning the Tony Award for The Humans
A few production photos of Reed