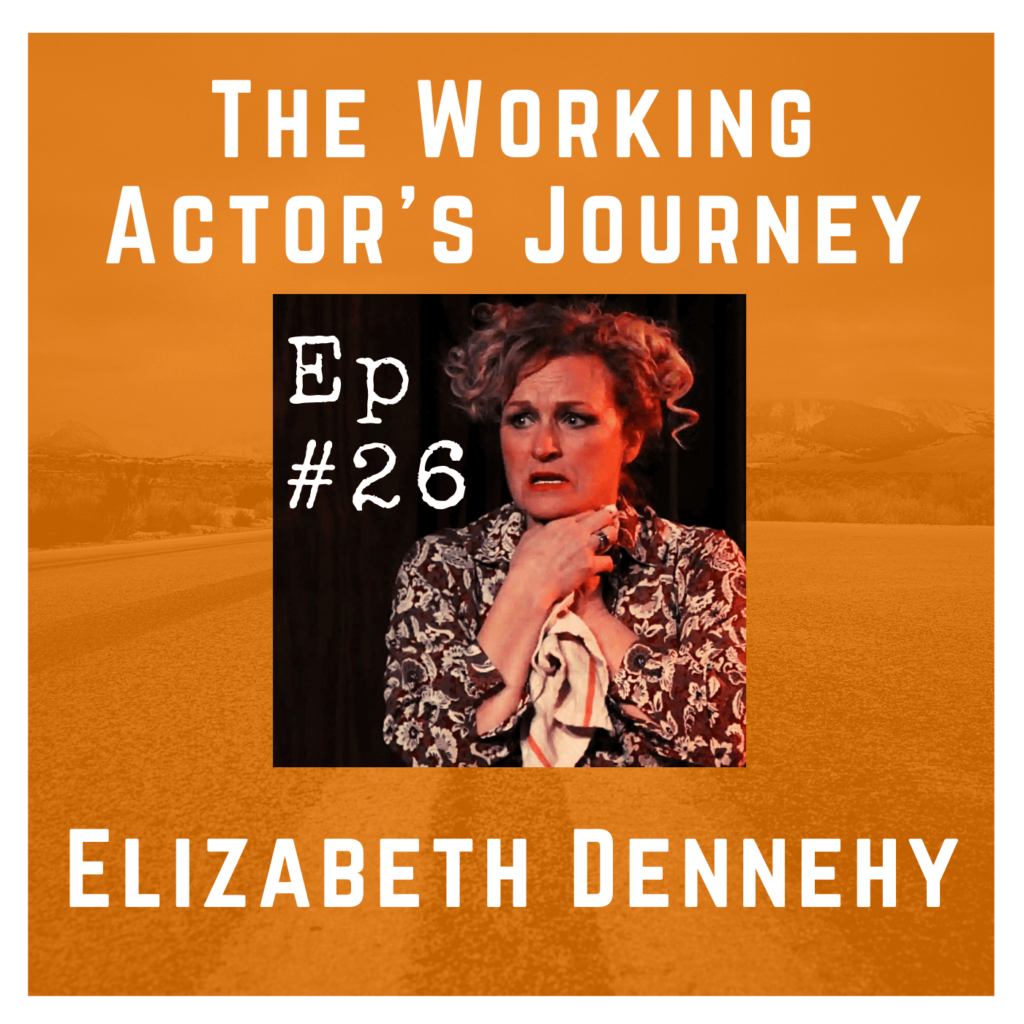 "I think the biggest mistake people make is playing their given circumstances instead of the characters' given circumstances. Nick Bottom [in 'A Midsummer Night's Dream'] is not trying to do a funny death scene. He thinks he's going to blow your mind with his tragedy and it's going to be the most heartbreaking death scene in the world. If you're trying to be funny as Nick Bottom, that's the actor's given circumstances."

~ Elizabeth Dennehy
Today's guest came from very humble beginnings, saw her dad's struggle with his own career, decided her family was a priority, worked even more when she was pregnant, and has found ways to help other actors.
Plus, we get another mini-Shakespeare class where Elizabeth dives into a piece from Macbeth! She's been an audition coach for years, and has also helped many students with their college auditions, so you'll definitely want to check this out!
And yes, she's also the daughter of actor Brian Dennehy, who shuffled off his mortal coil in 2020 after a long and celebrated career. Among many other things, we talk about pursuing the dream: seeing it with her father and then doing it herself.
This episode really shows there are many ways into and through this business, whether your parent is a major film star or not, you still find your own way, so whatever your situation is, you've got to want it and work at it. And her dad: he was proof that he really had to work at it for a long time before it paid off, and as you'll hear, he was very lucky.
About the guest
Elizabeth Dennehy has been acting for 30+ years, across theatre, tv, and film. She has worked with the Antaeus Theatre Company, Independent Shakespeare Co, South Coast Rep, San Diego Rep and at the Williamstown Theatre Festival, Shakespeare & Co with Tina Packer and Kristin Linklater, The New York Shakespeare Festival with Kevin Kline, the Kennedy Center, The McCarter Theatre, and is an original creator and cast member of Tony n' Tina's Wedding.
She has over 50 film/tv credits including Hancock, Gattaca, Masters of Sex, The Mentalist, Charmed, Seinfeld, NYPD Blue, and Star Trek the Next Generation. She has also worked as a dialogue coach on tv shows The Middle, the Goldbergs and Carol's Second Act. Elizabeth enjoys collaborating with actors to create exciting auditions and has been an audition coach for years.
She is a graduate of Hofstra University, the London Academy of Music and Dramatic Art, and completed the Teaching Shakespeare Through Performance program at Shakespeare's Globe in London. Elizabeth is married to actor James Lancaster; their sons Jack is an actor and William is currently a film student.
Please enjoy my chat with Elizabeth Dennehy!
Total Running Time: 1:52:48
Get the show delivered right to you!

Want to discover more with Elizabeth? Check out our workshop presentations of Julius Caesar and King Lear!
What was your favorite quote or lesson from this episode? Please let us know in the comments.
Scroll below for links mentioned in today's episode and additional show notes…
---
Grab the NEW FREE GUIDE: Keys the Pro's Use to Unlock Any Script!
Learn from lifelong professionals!
Get your copy of this online guide of the actual questions, approach, and PROCESS the professionals use when working on ANY material: plays, scripts, audiobooks, and more… from those who've been there!⁠
BONUS: you'll also receive the FULL Working Actor's Journey kit, including:
10 Ways to Stop Worrying and Start Working​
12 Top Acting Tips from Season One (of the podcast)
Podcast blooper reel clip with Robert Pine (Chris' dad!)
WISDOM FROM… Randall Duk Kim and Annie Occhiogrosso (founders of American Players Theatre and our 2nd most popular episode), Armin Shimerman, Elizabeth Dennehy, Tony Amendola, director Brendon Fox, dramaturg Gideon Rappaport, and more! Get your copy of the guide now!
Get exclusive access and even more about being a working actor!
If you're enjoying this podcast, you can become a patron! Starting at just $2/month, get exclusive access to behind-the-scenes and additional content, and be a part of taking this to the next level!
And for those who join at the Co-Star level or higher (just $5/month), you also receive a 10% discount on our workshops and other programs, including our April workshop with past guests Randall Duk Kim and Annie Occhiogrosso.
---
Show Notes
Elizabeth Dennehy around the web
Twitter | Instagram | LACHSA | Wikipedia | Film/TV | Off-Broadway | Additional Theatre | Cameo (personal message)
Her article "Brian Dennehy, a dad with a dream" for American Theatre
Highlights
How her dad got started in the acting business and watching his career take off
The many challenges they went through as a family as her dad pursued his dream
Auditioning for Oliver Stone 14 times and deciding she'll quit the business if she doesn't get it
The other career she believes she could do really well.
Her journey through Hofstra, then LAMDA, then Williamstown and Shakespeare and Company
Being asleep at the wheel with her education
Working on commercials and then on a soap opera – all the things that those worlds can teach you not only in terms of acting, but also technical skills
How she got involved with Tony and Tina's Wedding – being involved in the early stages, helping to develop the show and it becoming a massive hit
How the Tony show took her to LA
Working in theatre in LA and then getting onto Star Trek
How she would work over and over and commercials – doing the work and building her network!
Why she lives so frugally and the lessons she learned when her dad started making a lot of money
Her thoughts on the career once she had kids, and how she never worked more
Using her acting skills to lead her children's PTA groups
Discouraging her kids from getting involved in the biz, yet they did it anyway
The role that really scared her dad and that made Elizabeth cry watching it
Working on a speech from Shakespeare's Macbeth: what she looks at and what questions she asks
Being really nervous about her first Star Trek Convention
Selected People and Items Mentioned
Elizabeth's monologue from Macbeth by Shakespeare
+ click to view/close the monologue
As Mistress Quickly from Shakespeare's Henry V