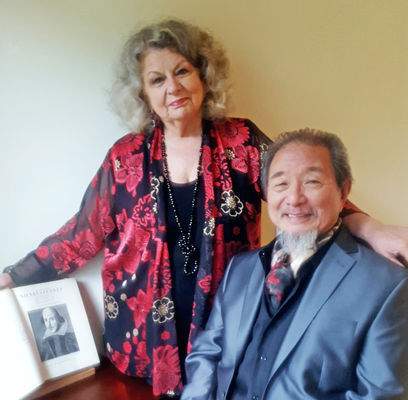 The Rehearsal Room presents:
The Play's the Thing: an acting workshop of Shakespeare's KING LEAR
with Randall Duk Kim & Annie Occhiogrosso (in their first online class!)
(co-founders and the first co-Artistic Directors of American Players Theatre plus lifelong actors, directors, and teachers)
April 5-26, 2022: Tuesdays at 2-4 pm PT / 5-7 pm ET – ONLINE
Learn how to approach Shakespeare from 50+ years of professional experience
Space for audience too: attend live or watch the replays!
For over 50 years, Randall Duk Kim and Annie Occhiogrosso have devoted their lives to the classical theatre through acting, directing, teaching, and developing a singular approach to classical text interpretation which combines, research, training, and production. Central to their work with William Shakespeare is their dependence upon the First Folio as an interpretive guide.
The Rehearsal Room helps actors and artists grow their careers through online, process-focused workshops.
Do you want to be challenged by great material, directors, and actors? Are you looking to up your game by working like a professional? And do you want to do it in a fun and collaborative environment?
Limited acting spots. Plenty of space for audience!
All through Zoom. (Can't make it live? Almost everything will be available via replay!)
Have you ever asked yourself…
What is this play about?
What does this line mean?
What is happening in this scene?
What are the relationships the characters share?
How can I make this clear to an audience?
Randall and Annie will teach you how to find answers to these and many other questions!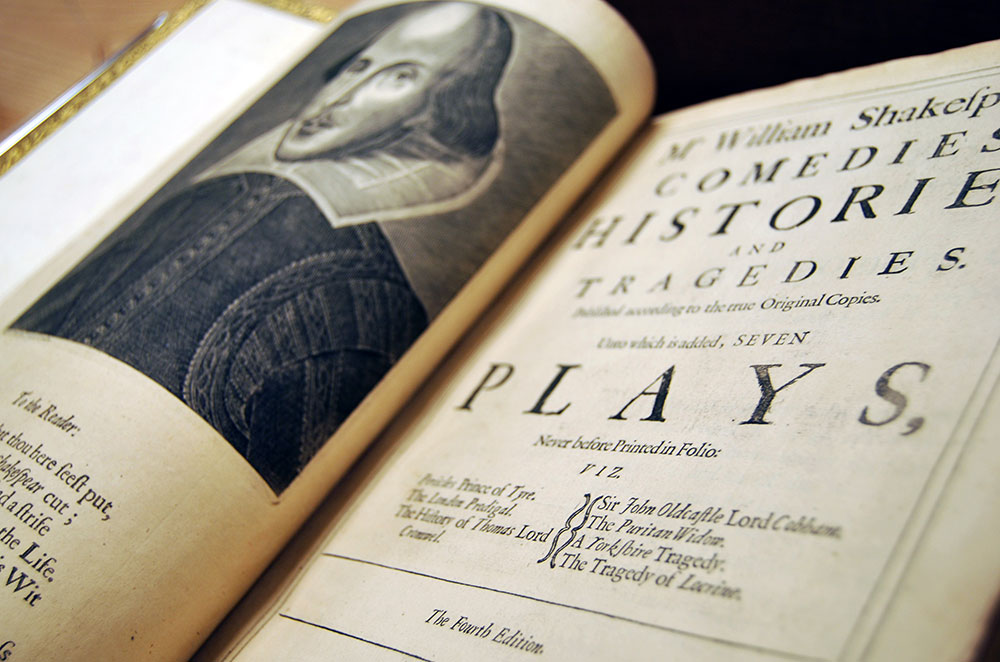 Join us for a unique exploration into a play: deepen your "text work" skills for all kinds of material!
Using the First Folio as the guiding text, these two master teachers will offer actors an opportunity to explore the first two scenes in THE TRAGEDY OF KING LEAR.
Actors will learn the techniques that Randall and Annie have used in bringing Shakespearean plays and roles to life on the stage for almost 50 years.
Participants of any age, race, or gender can sign up as actors or audience.
No one would say "Shakespeare is difficult to understand" if they spent time with Randy and Annie. They are unparalleled experts in bringing Shakespeare's work to life, and an absolute joy to learn from. Their deep knowledge of the plays and passion for the work gives the plays more depth, more emotion, and more relatability than I've ever experienced. Whether you are an actor wanting to truly master your craft or someone who simply loves the plays, take Randy and Annie's class.
You'll be learning from the best!
Amelia Strother
student, King Lear class 2020
Kim and Occhiogrosso believe the First Folio brings the plays of William Shakespeare to life in a way that no other text does.
Over the centuries, Shakespeare's works were "grammaticized" by scholars who edited texts for the reader. Through our analysis of punctuation, capitalization, and unique spellings in the original texts, we have discovered that the First Folio provides clues to stimulate the actor's imagination and encourages a more spontaneous performance of Shakespeare's plays.
What will happen in the sessions?
Learn the process and journey of what it takes to work at a professional level.
---
Annie will guide participants in the use of The First Folio.
She will also share other theatre techniques of exploring Shakespeare's masterpiece.
Randall will work on the role of King Lear.
This is a role he played at American Players Theatre, directed by one of the Group Theatre founders Morris Carnovsky, who was known for his own legendary performance of Lear at The Stratford Shakespeare Theater.
Work on the first two scenes of the play King Lear.
Participants will be able to learn from and engage with artists who have been working professionally for 50+ years.
As a drama teacher, Annie Occhiogrosso is a national treasure. Teaching acting with a rich knowledge and informed respect for the text is her vocation in life.
John Wyatt
Professor, University of Chicago
This is not just a lecture or a regular acting class.
Learn alongside two luminaries of the American theatre!
All participants will be able to observe how professionals approach this material, and registered actors will work alongside these artists as peers.
About Randall Duk Kim
Randy is an Obie award-winning actor who has been working professionally for 50+ years, playing dozens of leading roles in everything from Shakespeare to Moliere to Chekhov to the Greeks—acting at major theatres all around the world, from Honolulu to Vermont to Singapore!
He has also amassed an impressive amount of notable film and TV credits over the last 25 years, including as the "Keymaker" in The Matrix, "Master Oogway" in the Kung Fu Panda franchise, and as the "Doctor" in the John Wick films.
About Annie Occhiogrosso
Annie has worked as a director, dramaturg, acting coach and actress. She was co-artistic director of the American Players Theatre and received national attention for her body of work there, directing 16 Shakespearean plays along with works by Moliere, Ibsen, Plautus, and Chekhov.
She has performed the roles of "The Nurse" in Romeo and Juliet, "Gertrude" in Hamlet, "Natalya" in The Proposal, "Madame Arkadina" in The Seagull, "Jocasta" in Oedipus Rex and "Anna Petrovna" in Ivanov. Annie has taught at the Stella Adler Conservatory of Acting and at the New York Shakespeare Festival.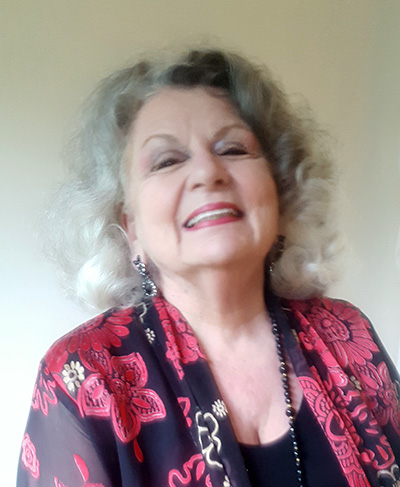 What would all this cost on its own?
This kind of work can save you YEARS of spinning your wheels and DOZENS of frustrating auditions.
How many MORE classes will you take, hoping you learn what you need to know that will set you apart?
You could easily spend $500-$1000 on multiple classes (plus time researching and finding them!) to learn everything we're sharing: how to work on the text, how to rehearse a scene, how to deliver an exceptional monologue in an audition.
If you can stand out from the crowd as an actor because of your WORK, then producers, directors, and casting reps WILL take notice and bring you in!
And the more you go in, the closer you get to booking the job!
Get ALL of this in the SAME place in ONE month!
Accelerate your growth as an actor today!
Don't waste more of your time and money.
---
Working with Randall and Annie on the Folio technique has been some of the most insightful, challenging (in the most wonderful sense, as we should all be challenged in the work so we can grow), and rewarding work I have conducted on the text of William Shakespeare.
With a one two punch, these master teachers create an environment which strives for the truth. The application of the Folio technique proves that every word of play is important and necessary to bring about what comes next, and that this work is not a passive art form.
I am humbled every time I find myself in a rehearsal room with these masters of the craft of theatre.
Any student that finds themselves lucky enough to study with them will find that they will grow in ways they never thought possible.
Sign up for The Play's the Thing!
King Lear class with Randall Duk Kim and Annie Occhiogrosso
Tuesdays (April 5, 12, 19, 26) at 2 – 4 pm PT / 5 – 7 pm ET
Registration for Scene Immersion and Deep Dive closes Wednesday, March 30th at 11:59 pm PT.
Registration for Unlimited Access ends on April 12th at 11:59 pm PT.
for AUDIENCE
Unlimited Access
Limited to 50
UNLIMITED access to ALL class sessions over 4 weeks (live or replay)
Private community access with an online group to connect with other artists
for ACTORS
Scene Immersion
Limited to 6
Work on KING LEAR directly with Randall and Annie in a group setting – 8 hrs of instruction and practice
Unlimited access to ALL class sessions over 4 weeks (live or replay)
Private community access with an online group to connect with other artists
for ACTORS
Deep Dive
Upgrade: limited to 4
60 minutes of individual work with Randall and Annie to work further on the text!
Work on KING LEAR directly with Randall and Annie in a group setting – 8 hrs of instruction and practice
Unlimited access to ALL class sessions over 4 weeks (live or replay)
Private community access with an online group to connect with other artists
PS: Don't miss out on becoming a GREAT actor that people take notice of! Increase your skills, confidence, and network while working at a PROFESSIONAL level!