This is a business and it's a huge part of being an actor. We go around thinking we're artists—and we are—but we have to know how to make a career out of it, too.  — Nike Doukas
I'm thrilled to welcome Nike to the show: a fantastic actress, director, teacher, and accent coach. She is one of the most supportive, warm, and hard-working people I know.
Nike was actually one of my first acting teachers after college and has become a great friend over the years. In addition to classes, we've worked together on Harold Pinter's Betrayal, Noel Coward's Tonight at 8:30, and I've lost count how many times I've seen her onstage.
Just a bit of what we cover:
growing up with older siblings
how she ended up in Madison
spending years auditioning for grad school
her criteria for doing good work
her process for working on text
and what she encourages her students to do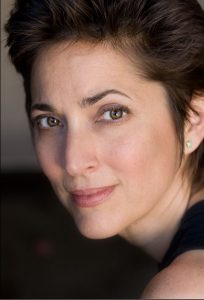 Originally from Massachusetts (same as me!), Nike studied at the University of Wisconsin, Madison and has an MFA from the American Conservatory Theatre. She's a regular at South Coast Repertory Theatre, where she has appeared in five world premieres, and has also worked at numerous other regional theatres across the country.
She has nearly 40 credits on IMDb, which includes work on Modern Family and a recurring role on Desperate Housewives. Recent teaching credits include Shakespeare at the Antaeus Company, The Art of Acting Studio, and A Noise Within. With her teaching partner H. Richard Greene, she teaches a summer intensive acting conservatory at UCLA, Berkeley, and Florida State University.
She was also the recipient of the 2011 Lunt Fontanne Fellowship, a national award to regional theatre actors.
At the time of publishing this episode, she has directed a production of The Hothouse by Harold Pinter that is now running at the Antaeus Company in Glendale, so if it's still open when you hear this and you can make it, check it out!
Please enjoy my chat with Nike Doukas!
Total Running Time: 1:16:39
Want to hear more from another actor who teaches? Check out my talk with Geoffrey Wade, an actor, director, teacher, photographer, and acting coach.
Get the show delivered right to you!

QUESTION OF THE DAY: What was your favorite quote or lesson from this episode? Please let us know in the comments.
Scroll below for links and show notes…
---
This episode is brought to you Audible. As a listener of The Working Actor's Journey podcast, Audible is offering you a free audiobook download with a free 30-day trial to check them out. You can get a book that's one hour long or 15 hours long—doesn't matter. Whatever you pick, it's free.
I do have a recommendation with a fantastic narrator—if you want to hear an actor who is exceptional at this stuff, check this book out:
Patient Zero by Jonathan Mayberry, read by Ray Porter
Ray is one of the greats, and has been named Audible's Narrator of the Year. Don't get thrown by the cover, it's not a typical zombie book, which is not my kind of genre—the reviews sold me: people really enjoyed the story, but thought Ray was the true hero of this one. They loved him so much, they wished they could give him more than 5 stars. I honestly had to remind myself several times that it's just him reading the books, and not a dozen different actors. I've also been lucky to work with Ray onstage and know what a great talent he is.
Here's a clip from this book:
So you can choose the above book—which clocks in at 14+ hrs, and for me, flew by—or choose any of the endless options they offer. That could be a book, a newspaper, a magazine, or even a class. It's that easy.
To download your free audiobook today go to workingactorsjourney.com/audible.
---
Show Notes
Nike Doukas around the web
Highlights
Growing up with three older sisters
How she handles the life of an actor
Having an artistic mother
Why she wanted to go to California after high school
How she ended up in Madison, Wisconsin after Massachusetts
How Asian theatre taught her so much about being onstage
What finally brought her out to California
How she kept busy while auditioning for ACT
How to find the right grad school for you
Her criteria for doing good work
How she got her first agent in LA
Why she didn't do any theatre for 3 years in LA
What she needs to truly understand the text she's working on
Working on a monologue from the play King Charles III
The questions you need to ask about every scene you're doing
What she encourages her students to do
Selected People and Items Mentioned
Nike's monologue from King Charles III by Mike Bartlett
click to view/close the monologue
Photo credit: Pittsburgh Irish Classical Theatre