I wish I could ask actors that are starting out, 'As hard as you feel like it is now, if I told you the more successful you become, the harder and more competitive it's going to become—are you still in?' — Audrey Moore
Today we have another Behind the Podcast episode, with the reigning queen of acting podcasts, Audrey from Audrey Helps Actors!
Audrey is a Phase 3 actor (you'll learn more about that), and her show is all about sharing the truth and reality of what it's like to be an actor right now, wherever you are in your career! Most actors are somewhere between getting their first headshot and winning an Oscar—and there's plenty to discuss for all those people! Think of our chat as a quick look at the kinds of things you'll hear more of on her show.
Audrey Moore hosts the wonderfully-named podcast Audrey Helps Actors (available on Apple, Stitcher, Google Play, etc), and it's exactly what it sounds like!
Every episode Audrey invites someone from the business to chat about everything from advice for auditions and getting a new agent, to the nitty gritty of exploring different theatrical markets and information about how you can better use your union.
The show is regularly in the Top 100 of ALL Performing Arts podcasts in several countries; it's often been in the Top 25 and as of publishing, the show is in the Top 50 for Performing Arts in the US—pretty amazing! And she's not even releasing episodes right now—that's how popular the show is!
Many of you may already be listeners and fans, but if not—get on that!
Just a bit of what we cover:
Where the idea for the podcast started and looking at what had existed
Why Audrey was doing so well in auditions, but wasn't booking
How to find the problem you *actually* need to solve in your career
Audrey's own journey with horrible self-tapes
How to manage your time and energy with various opportunities
I hope you enjoy this conversation—I'd love to hear what you think about this kind of episode, if it's helpful, and if you'd like to hear more like it. Reach out to me on Twitter @wajpodcast, or if you prefer, you can send an email here.
I always love hearing the WHY and the story behind things (including other podcasts), and it's a great bonus when these hosts are also actors!
About the guest
Audrey Moore is an actress and podcast host!
She studied at the Boston University College of Fine Arts and the London Academy of Dramatic Arts.
In just over the last 10 years, she's racked up 20+ onscreen credits, including recurring parts on the shows Manhattan, Godless, and Better Call Saul. She's not wasting any time, and it shows!
I really enjoyed connecting with Audrey and it's clear we have a similar goal: to share helpful info (and the real truth of it all) with actors out there!
Please enjoy my chat with Audrey Moore!
Total Running Time: 1:11:07
Get the show delivered right to you!

What was your favorite quote or lesson from this episode? Please let us know in the comments.
Want to go behind another acting podcast? Last season I chatted with Paden Fallis of In and [Out of] the Arena,
Scroll below for links mentioned in today's episode and additional show notes…
---
Now's a great time to share the NEW FREE GUIDE: 10 Ways to Stop Worrying and Start Working!
Discover the MINDSET of WORKING Actors!
Inside are 10 specific ways you can STOP worrying and START working when it comes to being an actor!
Hear thoughts, ideas, and advice from those who have been acting 40+ years—taken from excerpts from podcast episodes.
These guests don't know everything, nor is everything easy—they just have been around long enough to have figured out a few things, and they are sharing this with you. Get your copy of the guide now!
Are you looking for more about being a working actor?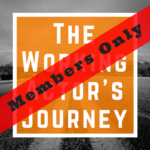 If you're enjoying these episodes, I want to let you know you can become a premium member of the show and there are a number of different perks, including bonus episodes, exclusive opportunities, and more.
Members can hear additional conversations with past guests Robert Pine, Dawn Didawick, Richard Riehle, and Tony-Winner Reed Birney!
A special shout-out to our members at the Co-Star level or higher: Adam, Jeff, Robert, Ken, and Ralph! Thrilled that you all are members!
---
Show Notes
Audrey Helps Actors around the web
Podcast (also in Apple, Stitcher, etc) | Instagram | Facebook | Twitter |  Film/TV
Listen to a recent episode of the show!
Highlights
Where the idea for the podcast started and looking at what had existed
The different phases of being an actor
Another big myth we need to get rid of for actors
Why Audrey was doing so well in auditions, but wasn't booking any guest star roles
Why she's very strict about her time with the podcast
That she would end the podcast tomorrow if necessary
Why she enjoys knowing what people don't like about her and how it's useful
That actors are terrible at auditioning (because they're not taught it!)
How to find the problem you *actually* need to solve in your career
How actors do better with rejection than most people
Audrey's own journey with horrible self-tapes
Audrey's favorite episode of her podcast
What this career path really costs, not just financially
What does Audrey wish she had known when she started in Phase One
The personal trauma Audrey experienced right after graduating from college
How her podcast has helped people understand what it is REALLY like
Why it's so valuable to have many different perspectives on her podcast
How to manage your time and energy with various opportunities
Are you "passion hopping" to avoid moving forward in your career?
Where Audrey's value is (hint: it isn't in the podcast), and having a sharp, focused intention
Selected People and Items Mentioned