The following is the text work session taken from the full episode with Randall and Annie.
In this episode, Randall and Annie share insights into working on Shakespeare through the appropriately chosen piece, Hamlet's "Advice to the Players"—the one that begins "Speak the speech I pray you".
 You'll hear Randall and Annie discuss:
Some of the most important advice that actors can take from Hamlet's words

How an actor can use and develop his or her own "discretion"

How to look at Shakespeare's First Folio, and how to play with it to find all the clues
Plus we chat about why "updated" productions of Shakespeare can make the audience feel distant, and instead, how to make it exciting!
This is such a great session and it was so fun to hear them share how the texts are really like musical scores for actors—showing you how to make sense of these works and perform them! These two are amazing teachers and have so much to share!
About the guests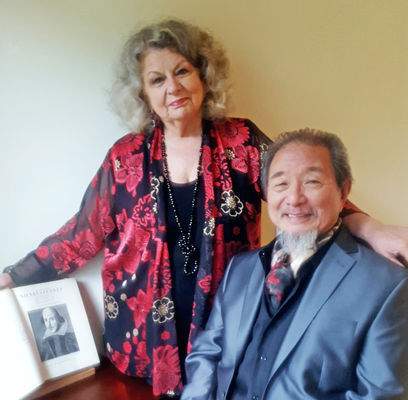 Randall Duk Kim has been acting professionally for 50+ years, playing dozens of leading roles in everything from Shakespeare to Moliere to Chekhov to the Greeks—acting at major theatres all around the world, from Honolulu to Vermont to Singapore! If I start listing everything he's done, we'll be here all day!
He has also amassed an impressive amount of notable film and TV credits over the last 25 years, including as the "Keymaker" in The Matrix, "Master Oogway" in the Kung Fu Panda franchise, and as the "Doctor" in the John Wick films. He has received an Off Broadway Obie Award for "Sustained Excellence of Performance"
Annie Occhiogrosso has worked as a director, dramaturg, acting coach and actress. She was co-artistic director of the American Players Theatre and received national attention for her body of work there, directing 16 Shakespearean plays along with works by Moliere, Ibsen, Plautus, and Chekhov.
She has performed the roles of "The Nurse" in Romeo and Juliet, "Gertrude" in Hamlet, "Natalya" in The Proposal, "Madame Arkadina" in The Seagull, "Jocasta" in Oedipus Rex and "Anna Petrovna" in Ivanov
Annie has taught at the Stella Adler Conservatory of Acting and at the New York Shakespeare Festival.
The theatre they co-founded, American Players Theatre, in Spring Green, Wisconsin was (get ready for this list!) the only professional, outdoor, classical, rotating repertory theatre company in America at that time. Under their leadership, American Players Theatre received a Tony Award nomination for "Outstanding Regional Theatre".
Please enjoy the text work with Randall Duk Kim and Annie Occhiogrosso!
Total Running Time: 22:08
Get the show delivered right to you!

Want to hear more from Randall and Annie? Check out my full talk with them here!
What was your favorite quote or lesson from this episode? Please let us know in the comments.
---
Show Notes
Randall Duk Kim and Annie Occhiogrosso around the web
His Site | Wikipedia | Film/TV | Broadway | Off-Broadway (and his earlier years) | Additional Theatre
Their PBS episode: Our 40 year Love Affair with William Shakespeare
Highlights
Some of the most important advice that actors can take from Hamlet's advice
How an actor can use and develop his or her own "discretion"
How to look at Shakespeare's First Folio, and how to play with it to find all the clues
The possibility and joy of working on texts that demand so much
Why "updated" productions of Shakespeare can make the audience feel more distant
Selected People and Items Mentioned
Randall's monologue from Hamlet by Shakespeare – the "Advice to the Players" (from the First Folio)
+ click to view/close the monologue