The biggest downfall of actors is when they start to get very pleased with themselves because they're actors; having something else that will keep you a bit humble is a good thing. — Ray Porter
On the show today is Ray Porter, an actor who spent 18 seasons with the Oregon Shakespeare Festival playing all sorts of roles, including many leads, and has since narrated more than 300 audiobooks, while still appearing on film, tv, and onstage.
Just a bit of what we cover in this episode:
why you don't want to be a tribute band
making audiobooks that SUCK (and how to get better)
an acting approach that gives you freedom
not believing your own PR
technique only up to a point
the most important thing to do, especially as an actor
and lots more!
We even work on a piece of text from The White Devil by John Webster! Post-Shakespeare themes and ideas—very cool stuff, and I'm sure most people are not using this for their classical monologue!
I first got to know Ray while working at the Antaeus Company where we did a staged reading of Coriolanus together, and then we were both in Noel Coward's Tonight at 8:30.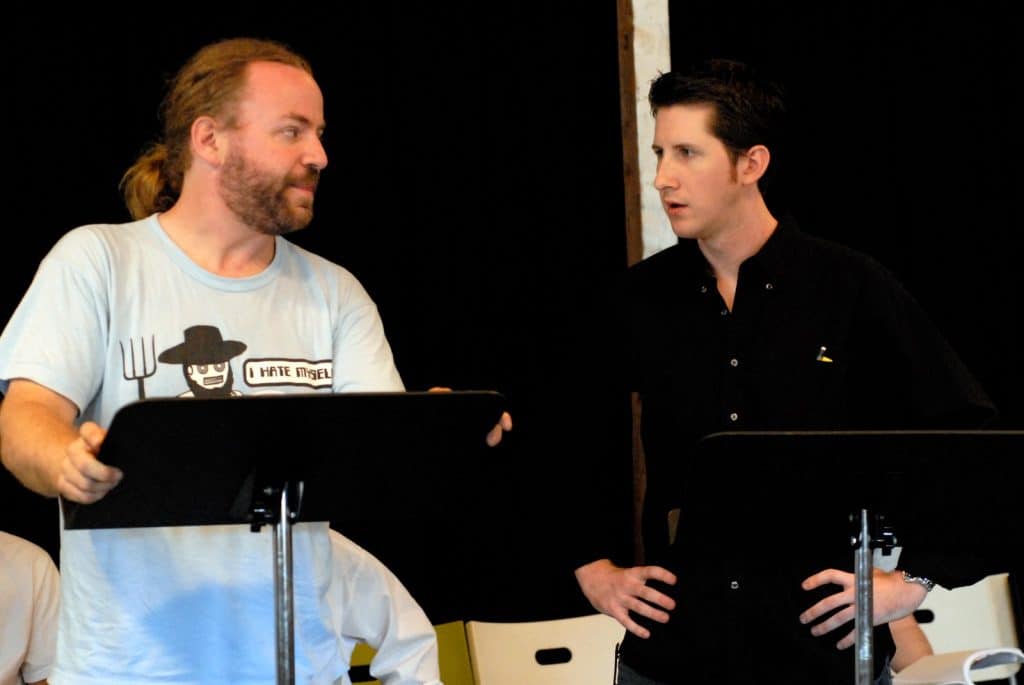 This is also a more personal episode since I started narrating audiobooks a few years ago. I am still learning all about it, and I really look up to and admire Ray and his body of work. Not only do I consider him a friend, but I'm very much a fan, and so excited that we could make this chat happen.
I wanted to use one of my favorite lines from this episode as the title: Ray Porter: Stay the F*ck out of the Author's Way, as I think it really encapsulates his approach, and that even gives you a quick sense that this guy cuts right to the chase. Maybe if Ray ever writes a book, that can be the title! Ha.
About the guest
Ray Porter grew up in Indiana and studied at the California Institute of the Arts. Shortly after college, he auditioned for the Oregon Shakespeare Festival and stayed with them for 18 years
Outside of OSF, he has appeared at ACT in San Francisco, the Mark Taper Forum, Berkeley Rep, and just last year in Henry IV with Shakespeare Center LA alongside our past guests Harry Groener (Ep 4), Geoffrey Wade (Ep 5), and Peter Van Norden (Ep 7)—and Tom Hanks played Falstaff!
Ray has 40+ film and tv credits and includes roles in Modern Family, Shameless, Sons of Anarchy, Monk, Justified, Argo, and Almost Famous.
He has narrated multiple best-selling books, covering all types of genres, including the Joe Ledger series by Jonathan Maberry, The 4-Hour Workweek, Silver Linings Playbook, and The Idiot's Guide to String Theory; I really cannot emphasize enough that Ray has had a major career in audiobooks and is one of the best in the business. He has multiple Earphones Awards and has been nominated for Audie awards for his narration.
Curious just how good Ray is as a narrator?
(No surprise by now if you've been reading everything above…)
And if Ray's name sounds familiar, you heard him in the Audible ads last season, with an excerpt from Patient Zero by Jonathan Maberry, a book that I (and many others) really loved. There are definitely moments when I listen back and think "wow, he sounds just like his narration,' which I think is absolutely a tribute to how authentically he brings himself to his work.
Here's a clip from that book:
Please enjoy my chat with Ray Porter!
Total Running Time: 1:26:24
Get the show delivered right to you!

Want to hear from another VO actor with plenty of Shakespeare experience? Check out my talk with Armin Shimerman!
What was your favorite quote or lesson from this episode? Please let us know in the comments.
Scroll below for links mentioned in today's episode and additional show notes…
---
Are you looking for more info from industry insiders and great teachers about being an actor?
And do you want this as something you can listen to on the go? Well you're in luck.
As a listener of The Working Actor's Journey podcast, Audible is offering you a free audiobook and a free 30-day trial. Whether it's one hour or 15 hours, it doesn't matter—whatever you want, that first book is totally free. To download your audiobook today go to workingactorsjourney.com/audible.
Here are a few recommendations:
The Actors Life by Jenna Fischer (from The Office), read by the author and others, including our guest Reed Birney
Secrets of Screen Acting by Patrick Tucker (a TV and film director), read by David Lawrence XVII
Respect for Acting by Uta Hagen, read by Angele Masters
Get one of these or anything else at workingactorsjourney.com/audible.
---
Show Notes
Ray Porter around the web
Facebook | Twitter | Instagram | Film/TV | Audible Audiobooks | Ray's "Greatest Hits" | Additional Theatre
Highlights
Being third generation in his family in entertainment
Why he decided to check out CalArts
The fear and struggle of saying No to projects as an actor
The possibility of being cut from the CalArts program
Turning off all the noise and not second-guessing yourself
Working with different artistic directors and "re-auditioning" every time
How he didn't go crazy living in Ashland doing the same shows for 10 months
Why he decided to scare himself in a big audition
The kind of actor he'd like to be thought of as
How his work in a show at OSF led to being offered a part at ACT
Working on multiple lead roles in the same season and the work that goes into it
How to play roles that everyone knows or that have expectations
How he got started narrating audiobooks and finding his own voice
Why he thinks of himself as a mailman and not an artist
What he thinks of reading great reviews about his work
Why technique is good, but only to a point
Working on a piece from The White Devil by John Webster
What is so important as an actor to do, and why you have no excuse
What advice he would give his younger self
Selected People and Items Mentioned
Ray's monologue from The White Devil by John Webster
+ click to view/close the monologue
Production Photos of Ray
Photo credits: Ray in A Midsummer Night's Dream (episode photo): David Cooper Photography;
Oregon Shakespeare Festival's Elizabethan Stage photo by T. Charles Erickson