The following is the text work session taken from the full episode with Tony.
In this excerpt, Tony discusses Sonnet 130 by William Shakespeare. As Tony shares, it's almost like an "anti-love" sonnet, that it makes fun of sonnets that are too flowery, as it has a very different tone and style with its message.
You'll hear Tony discuss:
how he approaches a pieces of text like this
how he might set the scene in his mind when doing this
why he loves this sonnet in particular
It's a great session, and Tony also shares at length the balance you want to find between ideas and behavior when working on texts like this!
About the guest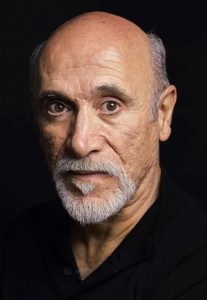 Tony Amendola grew up in New Haven, Connecticut into a blue-collar family. He was the first member of his family to attend college, graduating from Southern Connecticut State University and then receiving his MFA from Temple University.
He has over 120 credits on film and TV, including as a series regular on Continuum, and recurring work on Stargate SG-1, CSI, Dexter, and Once Upon a Time as Pinocchio's father Geppetto.
He's appeared as the title character in Uncle Vanya and King Lear, as King Henry in Lion in Winter, and as Shylock in The Merchant of Venice.
Tony was an associate artist, actor and director at the Berkeley Rep Theater for ten years. Regional theatre work includes the Mark Taper Forum, South Coast Rep, ACT, the Old Globe, La Jolla Playhouse, Williamstown Theater, CenterStage and the Oregon, California and Utah Shakespeare Festivals.
Voiceover work includes video games World of Warcraft, Final Fantasy 15, and Call of Duty, and as the narrator of The Land Before Time XIV.
Please enjoy the text work with Tony Amendola!
Total Running Time: 15:54
Get the show delivered right to you!

Want to hear more from Tony? Check out my full talk with him here!
What was your favorite quote or lesson from this episode? Please let us know in the comments.
---
Show Notes
Tony Amendola around the web
His Website | Twitter | Wikipedia | IMDb | Antaeus Company | Behind the Voice | Additional Theatre
Selected People and Items Mentioned
Sonnet 130 by William Shakespeare
+ click to view/close the monologue